What is there to do in the Southwest Coast Area? This chapter will guide you to explore the culture and beautiful scenery along Taiwan's Southwest Coast.
The Southwest Coast National Scenic Area covers two counties and one special municipality: Yunlin County, Chiayi County, and Tainan City. Apart from the long sandy coast, the area features agriculture, fisheries, and aquaculture. It also has longstanding temples and historical buildings, unique salt pans, as well as wetlands that nurture migratory birds and ecosystems. Everywhere around here is blessed with coastal beauty. Moreover, the Southwest Coast Area is the origin of various distinctive delicacies and local snacks that will tantalize your tastebuds. Read further to discover how you can have a great time in the Southwest Coast Area!
Must sees:
shoals lagoons salt pans wetlands temples migratory birds unique local religious events
Transportation
From other counties/cities to the Southwest Coast Area
When arriving in Taiwan, taking the Taiwan Railways or High-Speed Rail (HSR) is the most convenient way to reach the Southwest Coast Area.
For more information, please refer to: How to Get Here
Local Transportation
Renting a car is recommended
Since the Southwest Coast National Scenic Area is close to the sea, public transportation is less convenient. It is advised that you rent a car at HSR Yunlin Station, HSR Chiayi Station, or Tainan City Center if you want to check out the salt pans, watch birds at the wetlands, or enjoy fresh seafood at one of the fishing harbors.
Taiwan Tourist Shuttle
Taiwan Tourist Shuttle provides shuttle buses going to various tourist attractions in Taiwan. Currently, there are two routes going to the Southwest Coast National Scenic Area. For more information, please refer to: Taiwan Tourist Shuttle
Must-Visit Annual Events
Dashing Into the Water to Welcome the Lord Ceremony
The annual Dashing Into the Water to Welcome the Lord ceremony is a traditional religious event preserved for more than 150 years by the locals in Xinwen Town, Chiayi County. The 3-day event kicks off with a grand procession on the first day, in which all the patron gods of the neighboring temples join. On the second day, crowds of worshippers carry the sacred palanquin into the water at the "Wangye Boat Harbor" to bring the deities touring the world on behalf of the celestial realm to Chiaying Temple. On the third day, the guest deities are silently brought back to the harbor between 7 and 8 in the evening. Such a special religious event is not to be seen in other places in Taiwan. It will definitely be a unique experience for your trip.
Small reminder: Photography and video recording are prohibited during the process of bringing back the deities on the third evening.
Location:Chiaying Temple, Xinwen, Budai Township, Chiayi County
Dates:26th to 28th day of the 3rd lunar month (around April and May each year)
Kouhu Water Disaster Ceremony
To commemorate locals who lost their lives to the Jinhu District Great Tsunami and epidemic in 1845, the Kouhu Water Disaster Ceremony and a religious rite take place in the 6th lunar month every year. Jinhu natives working away from home will return to the village to attent this event with the local residents. This tradition already has 100 years of history and is an important religious event in Yunlin. During the event, there are activities such as the releasing of water lanterns, placing of ceremonial objects (bamboo floats) for the flood victims, and a candle lighting ceremony at the mass cemetery. All these activities allow visitors to have an in-depth look at the local history and religion.
Location:Jinhu Lord Wanshan Temple, Yunlin County
Dates:Between July and August each year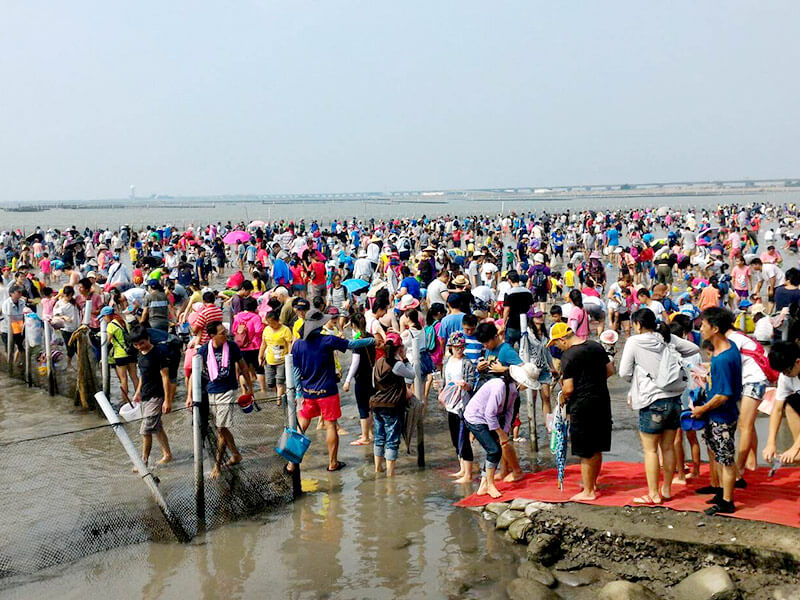 Qigu Seafood Festival
With the characteristics of the local agriculture and fisheries, the festival combines traditional fishing village culture with tourism. Here, you can harvest hard clams, visit the lagoon, go to the fish market, enjoy music and the sea breeze, or taste Qigu's exclusive seafood delicacies. In addition, the unique scene of thousands of people harvesting hard clams at the lagoon is something not to be missed.
Location:Qigu District, Tainan City
Dates:Between July and August each year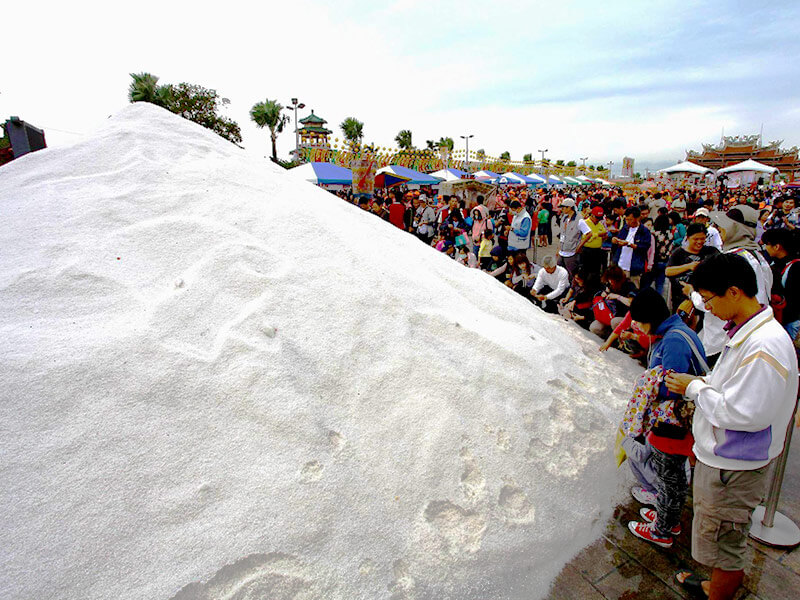 Kunshen KingWangye's Salt for Peace Festival
Combining the salt industry and wordship of the local deity Wangye, the Kunshen Wangye's Salt for Peace Festival is a series of activities held between October and November. The Wangye temple headquarters, Nankunshen Daitian Temple, holds a blessing ceremony that features a traditional temple performance troupe and invites thousands of people to experience how salt was transported in the earlier days by carrying salt. During the festival, a limited number of "Ping'an (Peace) Salt Charms" are given to locals and visitors. The small and exquisite salt charms have different patterns each year; not only can they keep you safe, but they are also worth collecting.
Location:Nankunshen Daitian Temple, Beimen District, Tainan City.
Dates:Between October and November each year
Souvenir Recommendations
Mullet Roe
Sliced orange colored mullet roe slowly grilled with charcoal and served with garlic sprouts and sliced white radish is the most traditional fancy fooddelicacy on the tables of Taiwan outdoor banquets. Don't forget to try it when you travel to Yunlin. You'll be impressed by its mildly salty taste.
Taiwan Sea Salt
The unique Taiwan Sea Saltsea salt comes from the top layer of tile-paved salt fields inat the Jingzijiao. Tile-Paved Salt Fields. Its crystallization is subtle and fluffy, and it tastes mellower than regular salt. Being affectedAffected by climate, Taiwan Sea Saltsea salt cannot be produced in high volume. It's an exquisite spice. Be sure to bring home a pack of it when you come to the hometown of salts.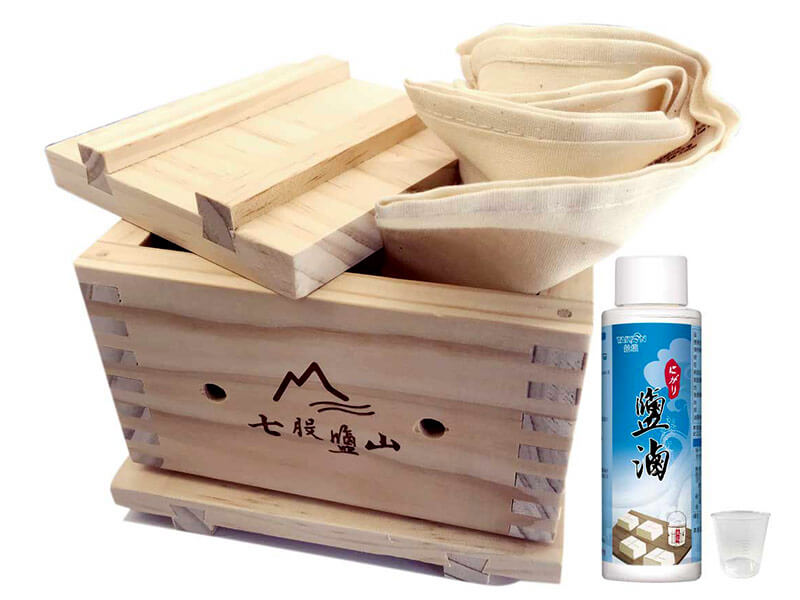 NigariSalt Brine Tofu DIY Mold Kit
The limited Tofutofu DIY mold kits from Qigu Salt Mountain are handcrafted by master carpenters in Taiwan. They are assembled by tenontenons and not a single nail is used. The quality is guaranteed. DIY tofu is as easy as that! With the nigari tofu DIY mold kit, you will definitely haveget the rustic taste that you can never have at other places.get anywhere else!
Burdock Tea
Burdock tea is made of fresh golden burdock grown locally in Taiwan. The harvesting of burdock normally occurs from February to April or early May. Burdock contains many nutrients. It has a pleasantlight flavor and its taste is excellent. You can't miss it when you come to the Southwest Coast Areaarea.
Aged Black Garlic
After 45 days of aging and fermentation, the carefully selected high quality white garlic grown in Yunlin turns black and can either be eaten directly as a fruit or cooked with other foods. It's not spicy, nor does it have the regular smell of garlic. It tastes sweet and sour, and is delicious. It dispels the stereotype the public might have about garlic. You'll love it at the first bite.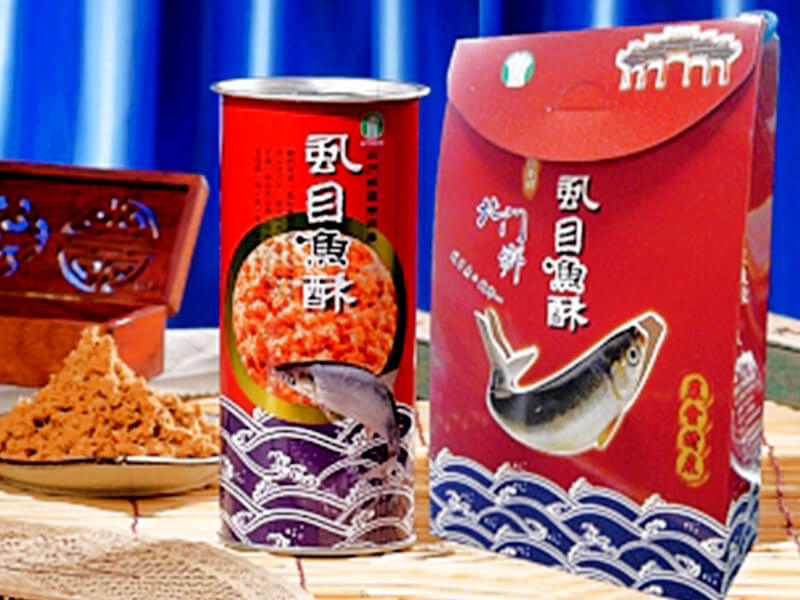 Fish Crips, Shredded Fish Floss
The fish crisps and shredded fish floss are made from the milkfish abundantly produced along the Southwest Coast Area. They not only smell good, but taste crispy and savory with the slight sweetness of seafood. Fish crisps and shredded fish floss often appear in the traditional food of salty congee and braised pork on rice in Southern Taiwan. They are definitely the souvenirs that the Taiwanese will buy when they travel to Southernsouthern Taiwan.