Different A different side of Taiwan! DistinctThe distinct ecology and culture of the coastal areas.
Must sees:
Dongshi
Dongshi Fishing Harbor Waisanding Sandbar Puzi Estuary Wetland Aogu Wetland
Budai
Budai Harbor Budai Salt Mountain Zhounan Salt Factory
Dongshi
Dongshi Fishing Harbor
Dongshi Fishing Harbor is a tourism fishing harbor. The smooth wooden path that goes along the seawall allows the visitors to walk along the pier to see the sea, and the tourism fishing rafts that occasionally passingpass by makes the scene the most classic scenery of a fishing town. If you come with your children, don't miss the children's favorite waterfront zone. Not only can you play in the water there, but watchyou can enjoy the fishery-themed installation art, too as well. You can also buy the freshly caught fishes locally.fish here. The fishes caught during the day are catch is sold publicly from 2PM beginning at 2 p.m.every day. If it is not convenient for you to cook the fish thereby yourself, you maycan go to the restaurants around the harbor area and enjoyhave the delicious foodchefs there cook it for you. Don't forget to try the special oyster cuisine in Westernwestern Taiwan.
Location: No. 420, Caixia Blvd., Dongshi Township, Chiayi County
Opening Hours:The harbor area is open at all times. Most of the stores are open around noon.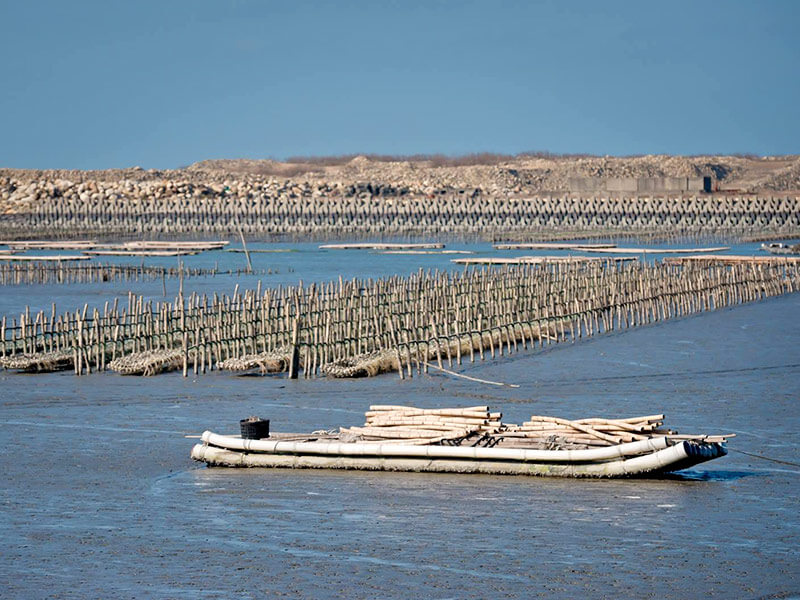 Waisanding Sandbar
Waisanding Sandbar is located offshore of the Southwest Coast Area. Owing to the influence of the northeast seasonal wind, its position moves every year. Therefore, it is also called "the moving territory". Its size shrinks gradually year after year. Currently, it is uninhabited. Only old fish rafts and fishery-related items are left there. By taking the tourism fish raft to Waisanding Sandbar, visitors can step into a traditional Taiwanese fishing scene and meet the clams and sand crabs on the beach.
Guided fishing raft tour:Dongshi Guided fishing raft 'Triumph' (No. 302, Guanhai 3rd Rd., Dongshi Vil., Dongshi Township, Chiayi County)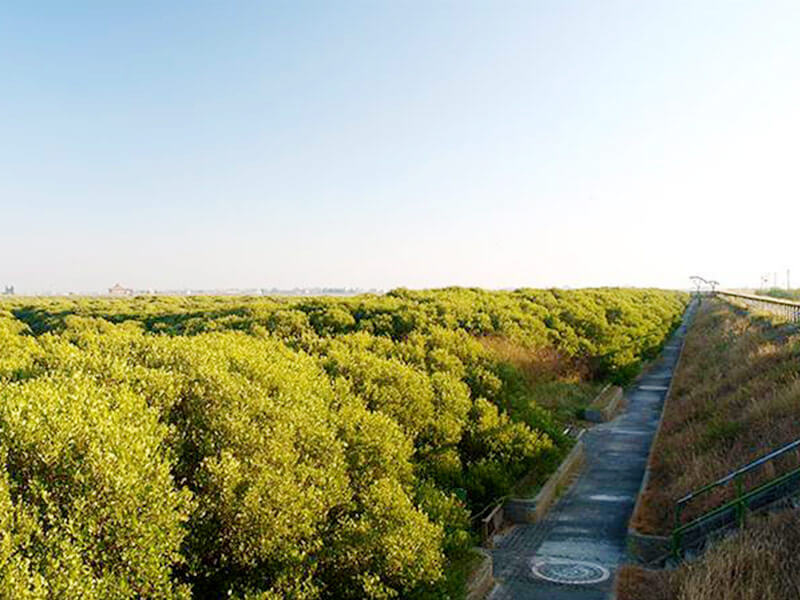 Puzi Estuary Wetland
Puzi Estuary Wetland is the largest wetland in Taiwan. The rich mangrove ecology that it hasis in thethis intertidal zone attracts hundreds of bird species to inhabit there. It's a very important habitat of birds globally. Standing on Dongshi Bridge, you may havecan enjoy a birds' eye view of the vast wetland landscape. When the tide is out, you can even carefully observe the ecological environment of the estuary. Along the riverbank of the wetland, there are facilities for bird watching and many information boards along the way, so visitors can knowlearn more about the Puzi Estuary Wetland. In addition to walking, you can also takego for a ride on the bicycle path of Puzi River and experience a different kind of wetland life.
Location: Section of Puzi River (Dongshi Township, Chiayi County) around Dongshi Bridge of Chiayi County Highway 168.
Opening Hours:Open at all times. Autumn and winter are the seasons that migratory birds come to Taiwan to spend the winter.
Aogu Wetland
Situated south of the estuary of Beigang River, Aogu Wetland enjoys an advantageous location and provides animals and plants with an excellent environment. Apart from mangrove and intertidal ecology, there are more than 200 bird species inhabiting herethis area. In the autumn and winter, migratory birds fly to Taiwan to spend the winter, attracting many international bird lovers.
Location: West of Aogu Village, Dongshi Township, Chiayi County (Sigu Community)
Opening Hours:Open at all times. Migratory birds fly to Taiwan in the autumn and winter.
Budai
Budai Harbor
Budai Harbor teems with fish and was developed in the early days. Since its transformation into a tourism fish market, it has been the largest and most popular tourist attraction in Chiayi. Here, you can try fresh seafood in the neighboring restaurants, or see the biggest high heel shoe-shaped building that received the Guinness World Records certification. You can also go to Penghu by taking a boat at the nearby Budai Harbor, or go on a fishing boat tour (only available by reservation) to learn about how Budai oysters are farmed, while enjoying the beauty of the wetland ecosystem!
Location: No. 3, Zhongshan Rd., Cenhai Vil., Budai Township, Chiayi County
Opening Hours:9:00~18:00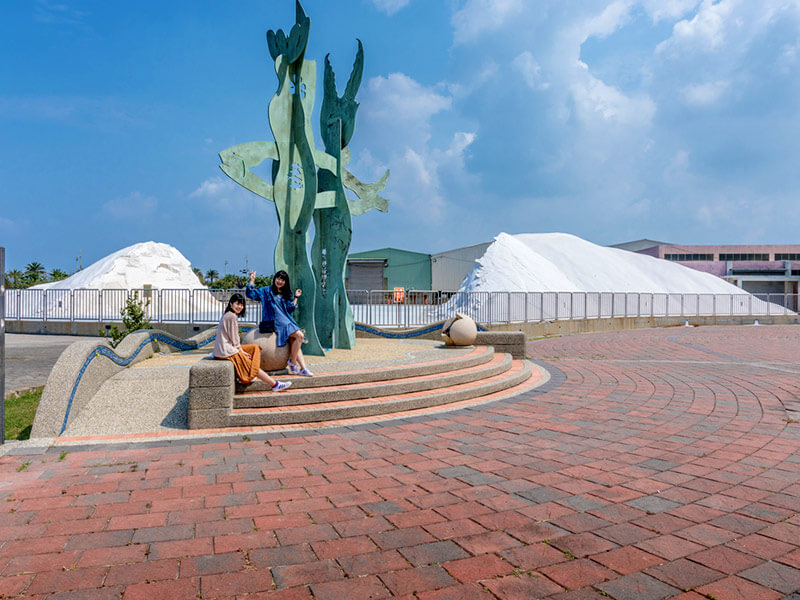 Budai Salt Mountain
Budai used to be famous in Taiwan for its salt production in Taiwan. The crystal white salt pans also had a worldwide reputation. Nowadays, solar evaporation and salt harvesting arecan no longer to be seen in Budai. To preserve this important local tradition, Budai Salt Mountain, in particular, has kept the salt pansbeen specially preserved and set up installation art pieces have been set up to show what was once the typical scenery of Taiwan's Southwestsouthwest coast; in – salt pans. In this way, the salt pans are presented to visitors in a fun and interesting way.
Location: No. 13, Xincuozi, Budai Township, Chiayi County
Opening Hours:08:30~17:30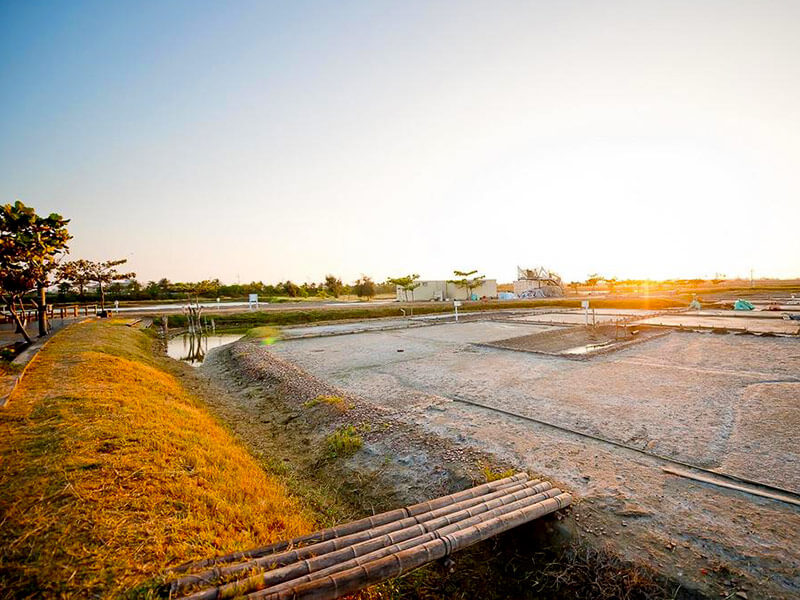 Zhounan Salt Factory
In the heyday of Budai's salt production, many salt factories were set up, and Zhounan Salt Factory was one of them. This place used to be abandoned due to the decline of the salt industry; yet, through the management of the local cultural association, it has been transformed into a cultural attraction that represents the history of salt pans in Budai as well as its salt industry.
Location: No. 402, Xincuozi, Budai Township, Chiayi County
Opening Hours:Monday to Friday 08:00 - 17:00
Experience activities and guided tours by reservation: +886-5-3478817