Scope of the Southwest Coast NSA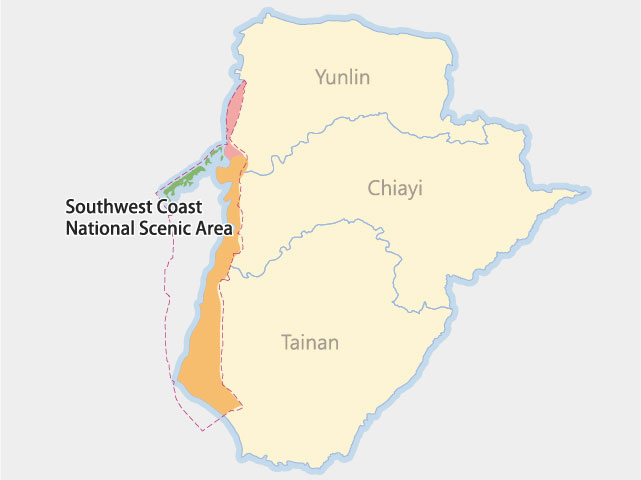 The Southwest Coast National Scenic Area covers parts of Yunlin County, Chiayi County, and Tainan City.
The National Scenic Area lies in the Chianan Plain, covering the eight administrative areas of Sihu and Hukou in Yunlin, Dongshi and Budai in Chiayi, and Beimen, Jiangjun, Qigu, and Annan in Tainan.
Nature and Ecology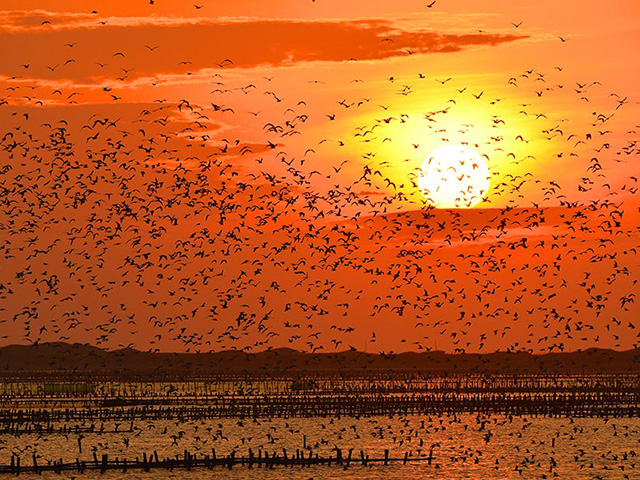 The Southwest Coast National Scenic Area is where the Chinese pioneers first settled after crossing the Taiwan Strait. The nutrient-rich sediment deposited by the rivers, the rise of the salt industry, and the development of tidal flats left the area with rich agricultural and fishery resources, creating the image of a coastal "homeland of farming and fishing."
The Southwest Coast National Scenic Area boasts an expansive shoreline that features unique coastal landscapes such as dunes, sandbars, lagoons, estuaries, and wetlands. The area is home to a variety of wetland species including fish, shrimp, shellfish, snipe, plovers, sandpipers, and herons. It is also the area where the Han Chinese first arrived to develop the land. Hence, the salt and fishing industries began to prosper. The scenic area also includes numerous historic sites of national importance that have been preserved since olden times.
Culture and Activities
Numerous activities are available to visitors touring the area. For example, tourists can rent a raft to appreciate the scenery of Waisanding Sandbar, enjoy the waves along the shore, search for clams hiding beneath the sand, or observe crabs scuttling back and forth. In Chiayi, in addition to the signature attraction—the Budai Wharf Tourist Fish Market--visitors can also enjoy festival activities at Jiaying Temple in Xinwen and Taisheng Temple in Haomeiliao. The most popular activity is the salt-harvesting experience at the Jingzaijiao Tile-Paved Salt Pans in Beimen, Tainan. Here, with guidance and explanations by the staff, tourists can experience first-hand the harvesting of sea salt from the salt pans while learning about the history of Beimen's local salt industry. This is a unique recreational activity you won't want to miss.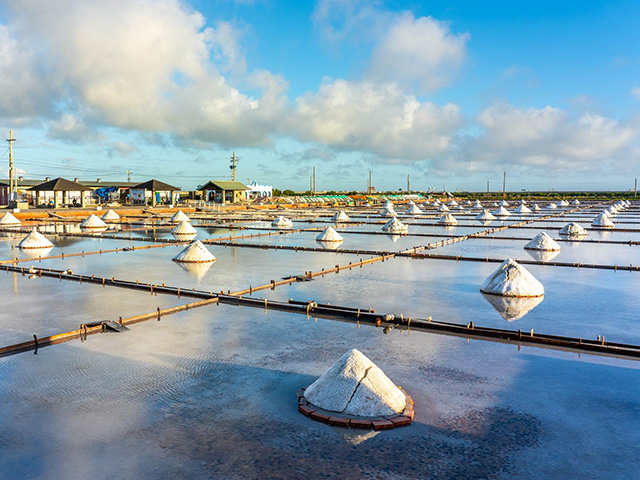 A popular attraction of the annual Salt of Peace Festival is cute little Salt of Peace sachets filled with pure Taiwan salt that has been blessed through a solemn ceremony. Visitors can fill their own sachets, which are believed to protect their bearers, and take them home as gifts for family and friends.